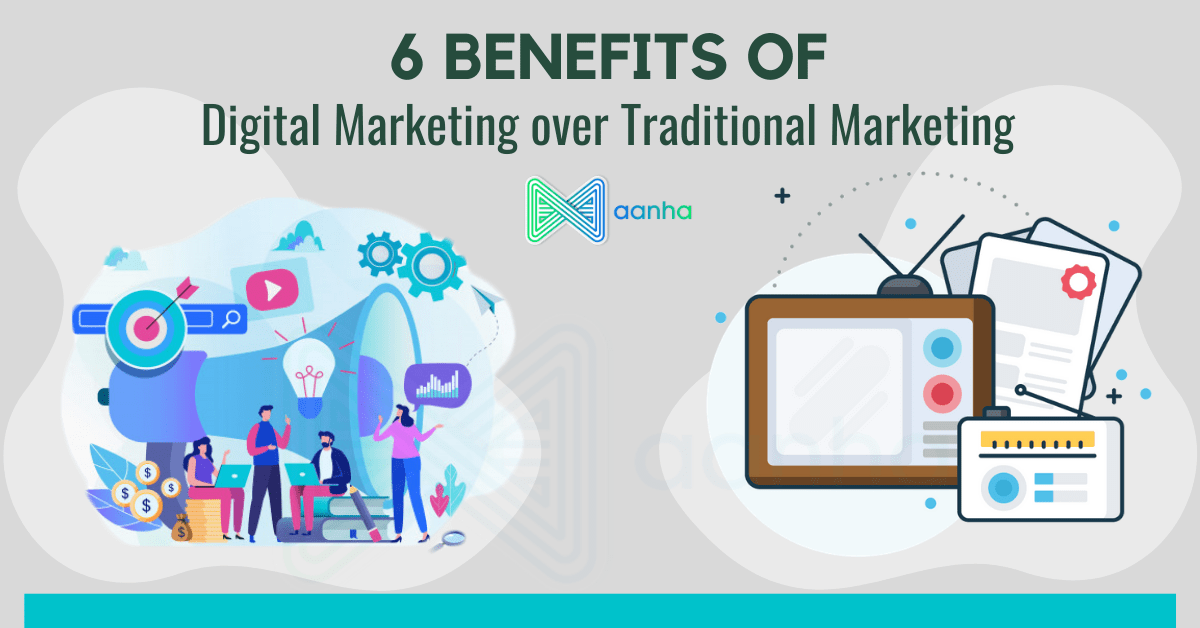 Marketing is a method of promoting and advertising your business be it a service or a product to the audience in order to scale your business. A company's marketing strategy can include offline (traditional marketing) or online (Digital Marketing) methods of marketing or both.
Traditional Marketing is being practiced by companies since ages by advertising their services or products on Billboards, TV ads, Newspaper ads, Radio or through brochures and flyers.
Digital Marketing a.k.a Online Marketing focuses on advertising the service and products on Digital Media such a Google Search Engine, Social Media Platforms like Facebook, Twitter, LinkedIn, YouTube Advertisement, etc. In order to grow a business, marketing is essential. As the number of online users is increasing daily, so is the Need for Digital Marketing for a business.
With a flexible approach to marketing your business on the Internet from anywhere and the ability to target any audience at any location, Digital Marketing has made an impact on the marketing techniques for business.
Here are the 6 benefits of Digital Marketing in every business niche.
1. Cost Effective – As compared to Traditional Marketing, results show that Digital Marketing is very cost-effective with the ability to limit your budgets to show only to potential customers. The cost of a newspaper ad for one day is way too high as compared to the cost of an online ad for a day.
2. Higher ROI – Return on Investment is higher in Digital Marketing if strategized and marketed the right way as the ads are customized and visible to only prospective buyers increasing the chances for sales.
3. Broader Audience Reach – With just access to the internet and building an online presence, Digital Marketing on various platforms can make your business reach to millions of potential customers.
4. Builds Brand Credibility – Omnichannel marketing, customer reviews, and reach to a large number of audiences, increases customer acquisition, and creates a Brand Credibility amongst the audience.
5. Custom Demographics and Target Specific Audience – With Digital Marketing, one can target the specific and potential audience based on their interests, demographics, and time duration.
6. Easy to Measure – Digital Marketing helps to find buyer persona as the results can be easily tracked, performance can be measured and analyzed through available software such as Google Search Console, Google Analytics, etc.
I hope this was helpful. Please share it if you like.
Write your thought & experience in digital marketing in the comments below.